"It was my home from the very beginning."
While Dexter Owen officially became a volunteer junior firefighter in 2004, he says he's been involved in volunteer fire service since 1990 — the year he was born.
Dexter's father was the fire chief at Summerdale Fire Company, and his mother was a firefighter with the same company and served as its treasurer for many years, as well being a career firefighter with the City of Harrisburg. (Summerdale Fire Company merged with Citizens Fire Company of Enola in 2011 to become what is now Northeast Fire and Rescue.)
"Growing up, I responded to many fire incidents, attended trainings, and hung out with the guys," he said. "It was my home away from home."
Dexter went on to serve in various roles with Summerdale Fire Company/Northeast Fire & Rescue before moving to Hampden Township in 2017. Dexter — who had been a member with
Hampden Township Volunteer FD
since he was 14 years old — went on to become captain and later the deputy fire chief, and is now the company's fire chief.
His ascent in fire service is certainly a result of his hard work and dedication, but also due to a desire to help those who need it the most.
"I enjoy being able to help people in a time of need — any time I am available — day or night," he said.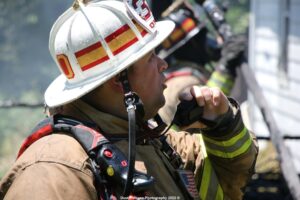 Dexter says that being a firefighter has led him to recognize that anyone's life can change instantly, and that the knowledge he's gained enables him to educate the community and those he close to him.
"This has allowed me to see the good, the bad and the ugly that anyone could face at any given moment and how I can prevent that from happening to others," he said. "With this knowledge, I can help my family, other families, and teach people from the events I have seen and witnessed."
As somebody who switched his primary fire company a few years ago, Dexter encourages those who relocate to considering reaching out to their local firehouse.
"If you move, don't be afraid to meet your local company if that's something that still interests you," he said.
And for those new to volunteer fire service? Dexter says not to be discouraged, even if or when certain aspects become intimidating. The level of commitment and education into becoming a successful firefighter is high and time consuming, but having support amongst those closest to you makes a difference.
"Finding or gaining a supportive family — even if that means getting them involved as well — has benefited me and would benefit others to be successful if they truly desire to be," he said.