"I think this is probably one of the best places to call home."
Those are the words of Hampden Township Volunteer Fire Company President Mike Taylor. He's called Hampden's fire company home since 1993, but has been around firefighters his whole life.
"I grew up in the firehouse," Mike explained. "My dad was fire chief, so I've been here my entire life. I wouldn't know what else do."
Prior to being the company's president, Mike was an assistant chief, a captain, a safety officer and lieutenant. The training he received early on led to his job with Cumberland County Emergency Management. He says his time with Hampden has been filled with mostly positive experiences.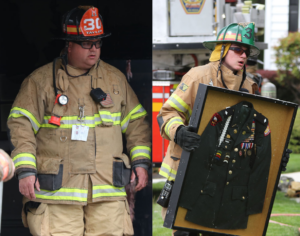 "I've enjoyed my [almost] 30 years," he said. "There are some rough times, but we get through everything. We have a good team here."
Three years ago, Mike's son, Justin, chose to join the team as a junior firefighter and continue the family tradition.
"I'm fifth generation," said Justin, now 17 years old. "Right before I joined, my dad was assistant chief, and that kind of pushed me into it."
Justin says he's gained so much admiration and respect for firefighters, as well as other professionals who strive to make a difference in the lives of others.
"It's helped me out with appreciating people and the things they do, such as teachers," Justin explained. "They're putting their mental health on the line to help other people out, and I can now somewhat relate to that."
Justin, who also plays baseball, compares the bonds he's established at the firehouse with those he's made on the baseball field.
"With baseball, there's lots of team bonding. Being at the firehouse is a very good family atmosphere as well. I've made really good, lifelong friends — all different types of ages," he said. "They've taught me a lot, not just about the fire service, but about life."
Father and son both say that helping people out when they need it the most is one of the biggest accomplishments of being a firefighter.
"It's nice to be able to help people out on their worst day," Justin said.
To sign up with your local Capital Region Firefighter company today, visit https://CapitalRegionFirefighter.org/contact/.